Are you looking for the BEST…GIFT…EVER for someone you care about?
Odds are they have enough books, scented candles, and don't need another barbeque set. In fact, they are likely not in need of another "thing". What do people crave most? Possibilities, meaning, and discovering more about themselves and their world.
Who might enjoy coaching? In truth, anyone! Do you know someone who is seeking greater clarity, wants to deepen relationships, take better care of themselves, or make progress on a personal goal or project? If so, this is the perfect gift!
The Gift of Coaching offer includes a brief introduction and preparation call and a 90-minute coaching session tailored to the gift recipient. The cost of this special gift is $250. A gift certificate will be sent to you electronically to share with your loved one.
So…if you're looking for something unique, experiential, and meaningful – give the GIFT of COACHING!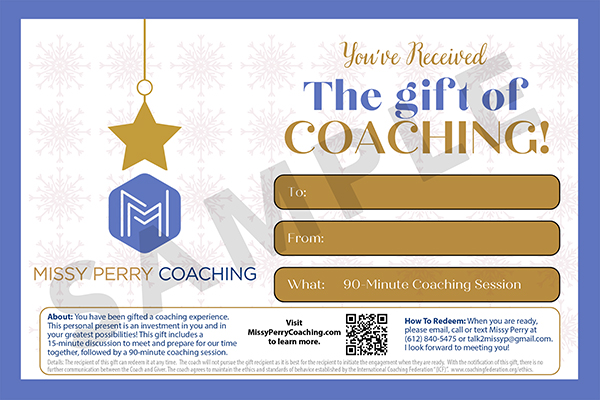 How the gifting process works:
To begin, click the "Purchase Now" button below. Then click the "add to cart" button and proceed to make a secure payment.
Upon purchase, you will be able to download the gift certificate. You then print the certificate at home and write in your recipient's name. Instructions to redeem are on the certificate.
Your gift recipient schedules their coaching session and works directly with me.
Interested in giving the Gift of Coaching?